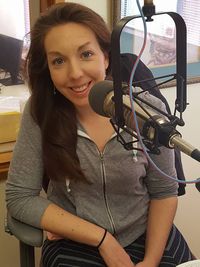 SPRING 2020: Miriam presented a Retreat for the Newly-Cloistered. Check it out HERE.
SUMMER 2018: The Good Rumors Podcast is launched! 
AUTUMN 2015: Miriam has released her second book, "The Memory of Good: Meditations on Conversion and Gratitude." Find it here on Amazon. 
JULY 2015: It was time to take the music on the road! Miriam joined Joelle and Nichlas Schaal once again, this time, for a concert in Eugene, OR. Thank you to all who attended the event at St. Mary's Church! 
MARCH 2015: Miriam joined Joelle and Nichlas Schaal for their concert on March 7, 2015 at Resurrection Parish in Tualatin, OR. She performed her original song, "The Gardener". 
JANUARY 2015: "What I Learned in Oxford" is now available on Amazon! Click here to purchase! This book is best enjoyed with a cup of English Breakfast tea and a few biscuits.
* * * 
Click on the text to access previous interviews and features...
"Juliette" featured on Ave Maria radio "Notes from Above" show (January, 2014)
Featured guest on "The Good Catholic Life" (WQOM Boston, February 2012)
Featured on "Strange Notions", an online place of dialogue for Catholics and atheists (June 2013)