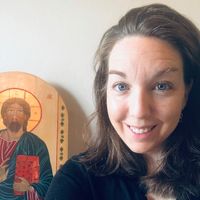 Here are some of the different presentations that Miriam can bring to your parish, retreat or event: 

SHINE LIKE LIGHTS IN THE WORLD: EXPLORING THE UNIVERSAL CALL TO HOLINESS
Miriam uses Pope Francis' 2018 Apostolic Exhortation Rejoice and be Glad as a departure point to explore the call to holiness in everyday life and in the parish community. We will give special attention to the Beatitudes, which Pope Francis calls "the Christian's identity card." They offer a beautiful roadmap towards holiness of life. We will also address the primary obstacles to holiness – including the notion that becoming a saint is for other people, but not for us. Nothing could be further from the truth! We are each called to holiness, and it is an adventure like none other.
FAITH AND STORYTELLING
"Still, I wonder if we shall ever be put into songs or tales. We're in one, of course, but I mean: put into words, you know, told by the fireside, or read out of a great big book with red and black letters, years and years afterwards..." (Tolkien, "The Two Towers") J.R.R. Tolkien understood this better than most: we *are* in a story. The most marvelous Story of all. The one that tells the tale of how God became man and changed the course of human history, down to the smallest detail of our most mundane Tuesday afternoon. How do we recapture the sense of storytelling through daily living? How does a healthy and active imagination prepare our hearts for a lively Christian faith? What do fairytales have to do with the mission of evangelization? Come "inside the story" and join us as we discuss the life, works, and ongoing significance of two famous Oxford "Inklings", Tolkien and C.S. Lewis. It may very well be that their message has never been as important to hear as it is today.  

APPROACHING THE THRONE OF GRACE: CONFESSION AND THE NEW EVANGELIZATION 
It's astonishing how a little green light over a door can prompt such a robust reaction - and these responses often go in many different directions, ranging from "I don't need to confess my sins to a priest" to "this sacrament turned my life around completely". This presentation addresses many facets of the sacrament, including: history, Scriptural origins, personal/shared experience, commentary from saints (across the ages), and a look at how the sacrament fits into today's world, with all its present concerns. Miriam enjoys using more of a Q & A format for this one, and welcomes the dynamic conversation that often follows any presentation on the sacrament of Confession. Come and join the journey, as we approach the throne of grace together. 

BEAUTY AND THE FEAST: A TALK ON WOMEN, FAITH, AND FOOD 
This presentation is a wonderful addition to any retreat or conference geared towards women of all ages. Miriam discusses how her own pursuit of beauty led her down an unexpected path - which included dangerous detours and gentle epiphanies. Ultimately, it was a road which led to the embrace of a loving God. And hers is just one story among many; it's a fact that a considerable number of women share similar struggles, when facing the expectations, questions and concerns which come with being a 21st century woman living in America. How to look! What to eat! Where to turn for every fix and fortune! There seems to be an endless stream of voices, recommendations and remedies for any ache or restlessness in the woman's heart. Through this unique combination of personal testimony, Scripture meditations and the writings of holy sisters and brothers (past and present), Miriam hopes to dive deeper into the crucial conversation of what it means to be a woman striving to live a joyful, whole, and authentic life.    

THE SIENA EFFECT: KEEPING THE FIRE OF FAITH BURNING 
Whether you are about to enter the Catholic church or you've been attending Mass for fifty years, it's always a good time to consider those spiritual practices which help us to keep "running the race," as St. Paul would say. This talk will offer practical suggestions aimed at building up discipline, trust and acts of charity in daily life. This is very much a "back to basics" presentation: from a meditation on the Sign of the Cross to a discussion on the role of hobbies to the serenity of the Christo-centric life, Miriam focuses on some of the fundamentals of healthy and authentic Christian living. And why the Siena Effect? Because a life anchored in prayer and sacraments is a life that shines brightly, and has - through the grace of the Holy Spirit - the uncanny ability to help other hearts respond to the mercy of God. "When you are where God intends you to be, you will set the world aflame." - St. Catherine of Siena

ABUNDANT LIVING IN ORDINARY TIME
The Gospels are full of accounts of lives being changed in the midst of perfectly ordinary days. Fishermen with their nets, tax collectors with their coins, women at their wells. Christians believe that God assumed human form and took up residence in a Nazarean home, complete with a trade in carpentry. Which means that the second Person of the Trinity would have very likely swept the floor at some point. Truly, then, our most ordinary tasks find their proper place in the mystery and wonder of the Incarnation. And so the Lord has given the Church the season of Ordinary Time, and it is a good, rich time - far more than just filler days between Easter and Christmas. These are the times when saints are made. Discussions will include ideas for cultivating better habits of Ordinary Time living, reflections on relevant Scripture passages, and a spirited consideration of how literature and the arts can help us, as we navigate the waters of this wonderful liturgical season. 

Book a speaking engagement by emailing Miriam.